Coal Ash Landfill
URGENT: Drastic Remediation Needed at the Cayuga Power Plant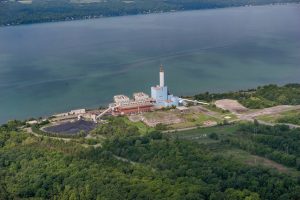 Cayuga Operating Company, LLC, operates the Cayuga Power Plant that is located on the eastern shore of Cayuga Lake in Lansing, New York. The 306 MW coal-fired power plant was built in 1955 and began operating as Milliken Station.  NYSEG opened the present on-site Cayuga Ash Disposal Landfill in 1977, despite knowing that the water table was very close to the surface. This 42-acre landfill is approximately 75% unlined on the bottom. The landfill discharges contaminated coal ash leachate and storm water from the landfill surface to a 1.5-acre sediment pond located just west of the landfill. Cayuga Operating Company's state discharge permit allows it to drain from 24 to 30 million gallons of contaminated effluent annually to Cayuga Lake.  
CLEAN wants these harmful irresponsible discharges into Cayuga Lake—the drinking water supply for >50,000 people–to stop and believes the coal ash leachate should be treated at a Waste Water Treatment Plant capable of processing such toxic effluent. Why?
In 2013, the EPA confirmed that polluted groundwater at the Cayuga Landfill is threatening human health and the environment. Monitoring data show levels of boron, molybdenum, manganese, sulfate, strontium, arsenic, selenium, thallium, nickel, lead, cobalt, cadmium, copper, nitrate, beryllium, fluoride and mercury above the New York State standards for drinking water. Concentrations of chromium, barium, iron, sodium, chloride, and ammonia also have exceeded background levels. However, of the 23 analytes just mentioned, the New York Department of Environmental Conservation (DEC) SPDES permit granted to Cayuga only sets discharge limits for 7 of these analytes. And some of the limits are permissive.  Arsenic, for example, is allowed into the lake at 15 times the safe drinking water limit set by the EPA. And, by regulating only 7 of the above 23 analytes, no one will know if one of the other 15 analytes is going into the lake at a dangerous level. 
The DEC does not require monitoring of sediments or surface water in Cayuga Lake near this discharge.
Milliken Creek, which lies directly downstream from the facility, contains increased levels of the elements commonly found in fly ash. Many of the homes and farms near the Cayuga Landfill contain elevated levels of arsenic and selenium. However, it appears that the DEC has not tested nearby residential wells nor has it sampled Cayuga Lake for impacts from the leachate.
CLEAN hopes you will Stand Up for Cayuga Lake! To safeguard our lake from industrial contamination, we hope that you will pressure the DEC to:
Expand the environmental monitoring network to determine the vertical and horizontal extent of groundwater contamination on and off site.

Employ corrective measures to restrict groundwater contamination to the facility site itself.

Require Financial Assurance Funding to expand the monitoring network and for remediation of the site.

Organize and advertise a public hearing before there is a discharge (SPDES) permit renewal.

Halt coal ash leachate discharges through Outfall 013 into Cayuga Lake.

Process waste water through an appropriate treatment plant.

Insist that Heorot Power (the plant's latest owner) divert uncontaminated surface water runoff at the landfill to a constructed wetland and not into the sediment pond.

Decontaminate, decommission, and remove all structures on Heorot's property.

Conduct a risk assessment of human health and ecological risks posed by the Cayuga Landfill.
Contact information for the DEC:
Basil Seggos, Commissioner, NYS DEC
518-402-8545
To email the commissioner:
https://www.dec.ny.gov/about/407.html
You can pressure Town of Lansing Board members to:
Help residents of Lake Ridge Point who don't have potable water join Bolton Point's water system.
Contact information for Town of Lansing:
Debbie K.  Munson (ask that your email be circulated to the Board members)
townclerk@lansingtown.com; (607) 533-4142
PLEASE SIGN THE PETITION TO THE DEC
Thank you for your support! 
In solidarity,
C.L.E.A.N.
Cayuga Lake Environmental Action Now!