Stand Up for Cayuga Lake!
In the heart of upstate NY lies 11 lakes called the Finger Lakes. The lakes are long, narrow, and oriented in the north–south direction. Carved out by glaciers around two million years ago, these lakes are now the home of over 1.2 million people and boasts a thriving economy in the wine and craft beer industries. Cayuga Lake, the second largest of the Finger Lakes, is about 40 miles long and reaches a depth of approximately 435 ft at its deepest point. As the main source of public drinking water for at least 40,000 people, it is important to safeguard the health of the lake.
Cayuga Lake might look pristine, but it is threatened by industry and it is already showing signs of distress.
Cayuga Lake is being jeopardized by many factors such as invasive species, inadequate treatment of wastewater, and emerging contaminants. Additionally, more intense weather events caused by climate change increases farm runoff and erosion of silt, leading to nutrient loading. Data indicates the increase in nutrients coupled with higher temperatures has been leading to harmful algal blooms.
Cayuga Lake Environmental Action Now (CLEAN) is an independent advocacy group that is working to protect Cayuga Lake. We are addressing industry polluters in an effort to highlight the need for remediation of industrial contamination. Based in Ithaca, CLEAN is working with researchers, local environmental groups, and a legal team to address water quality issues on Cayuga Lake. We are affiliated with the Cayuga Lake Watershed Network. CLEAN has fiscal sponsorship through the Chris Dennis Environment Fund. We are working to hold industry polluters accountable and the NYS Department of Environmental Conservation responsible for protecting a resource that belongs to ALL of us: Cayuga Lake - from the waves up above to the salt down below.
Donate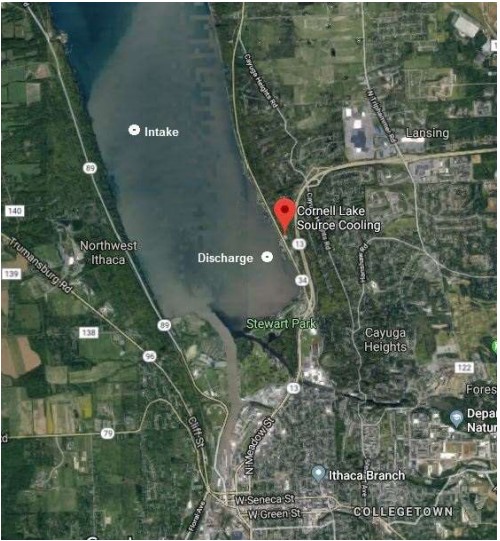 Current Projects
Salt Mining:
Every day Cargill, Inc. operates a salt mine 2200 feet below Cayuga Lake with mining through permitted reserves under about 22% of Cayuga Lake. As the mine passes Taughannock Park and approaches Cayuga Power, the strong limestone that helps prevent the lake from hydraulically connecting with the mine is thinner due to glacial gouging in the last ice age. CLEAN's geology advisers believe mining in these northern reserves should end and that Cargill should not be allowed to ream a 4th shaft at 1001 Ridge Road, Lansing, NY. Even if the mine closed today, there is a very real risk of the mine flooding and of saturated brine then venting into Cayuga Lake for more than 200 years. As a result of salt mining, the sodium content of the lake water is already twice the level recommended for people suffering from hypertension.
Coal Ash Landfill:
CLEAN is currently addressing issues regarding retiring the Cayuga Power Plant on the east shore of Cayuga Lake and concerns that leachate from Heorot Energy's coal ash landfill could be affecting groundwater and water quality of the lake. CLEAN hired a consulting firm to review records and options for remediation of Cayuga Power's coal ash landfill. Environmental researchers at CLEAN continue to sample and analyze discharges from the landfill into Cayuga Lake, which contain heavy metals and which total up to 30M gallons per year.
Harmful Algal Blooms (HABs):
In a study to determine causes of HABs, CLEAN researchers have been monitoring water quality on Cayuga Lake with a Eureka Manta+35 Water Probe which records lake water quality measures such as pH, temperature, conductivity, depth, dissolved oxygen, turbidity, sodium, chloride, chlorophyll a, and cyanobacteria. CLEAN has recently resumed water quality research work on Discover Cayuga's weekly cruises on the MV Teal at the south end of Cayuga Lake. Some CLEAN members are trained as "HABs harriers" and patrol portions of lake shoreline in cooperation with the DEC, Community Science Institute, & the Cayuga Lake Watershed Network.